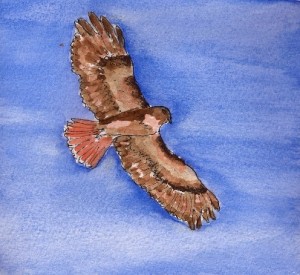 The cry of the Red-Tailed Hawk rings out across the morning landscape, high and piercing.
I follow the sound and see the large, lone bird, soaring on the air currents. It is very visible against the crisp blue sky. I love seeing the hawks soar; I am in awe of their power and strength.
I also love them for their stillness. I often see a solitary hawk perched silently in the high branches of a hundred-year old oak tree that is in the middle of our neighbor's corn field. I see it there in very early morning, or just as the sun is setting.
I am tuned to hear the Red-Tailed Hawk.
For years, a pair of Red-Tailed Hawks nested in the back of our five acres. It was a massive nest, at least 40 feet up in an old oak. I wanted to observe them, but they prefer seclusion, so I never went back there during nesting season.
All season long, I could hear the cry of the young hawks, and then when they fledged, I often saw them flying around and near our property. The young birds seemed to stick close to home when they first began to fly.
I am always grateful to see the hawks. Not only is their beauty mesmerizing for me, but they remind me of grace. They remind me of the grace in my life.
When I see the Red-Tailed Hawk, I wonder what I would be able to see, if I could fly high on the air currents.  I think about their excellent vision, and I remember to step back from the details of my life and take the long view.
What can you see, when you step back and take the long view of your life?