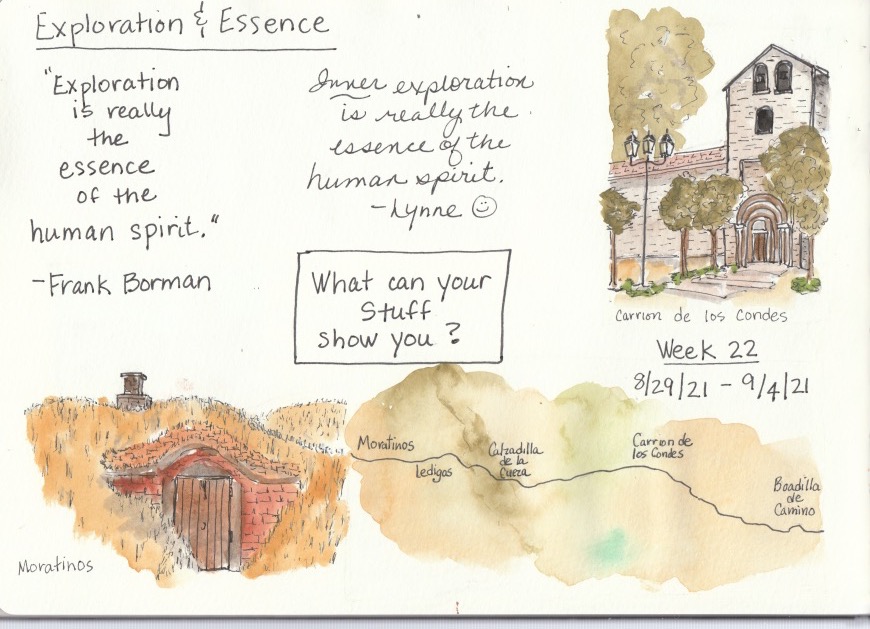 This week, for me, being a pilgrim has meant continuing to clear my Stuff, in a quest to "carry only the essentials."
My insights for the week are quite simple.
Exploration is really the essence of the human spirit.

Frank Borman
Frank Borman is a NASA astronaut, probably best known for his Gemini 7 and Apollo 8 space missions. So, I'm pretty sure that, in this quote, he meant outer exploration.
But to me, inner exploration is the essence of the human spirit.
As I have been sorting my stuff, it has become clear to me that a great deal of my stuff was transitory. These were things that served my mission of exploration to discover who I really am.
This is particularly applicable to books and art supplies, but it's more broadly true as well.
I bought things that attracted me, interested me, called me forward to engage in new activities. And it was all part of finding who I am, at my essence.
This first insight was really important, for two reasons:
The realization that so much of my stuff was part of this journey of discovery allows me to let it go now, because it has served its purpose. I was using it on the way to something else, i.e., expressing a truer version of myself.
It also lets me release much of the "What Was I Thinking?!" judgements that I was tempted to load onto myself as I clear my stuff. When I bought a lot of the stuff, I wasn't actually clear, at the time, whether it was "me" or not. I bought the stuff to discover whether it was me or not.
The second insight for the week is that when your sorting criteria is "me" or "not me", what you end up with at the end of the sort is a tangible picture of the essence of you. You can literally see who you are.
I'm still so immersed in the clearing project that I haven't stopped to look at what I have remaining, and to let it show me what it reveals about my essence. More to come.
What can your stuff show you?