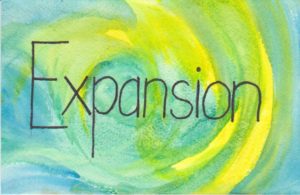 Our June word (see 12 Words) is Expansion.
I have a core belief that as humans we naturally expand through our life experiences.
But what is different as we engage consciously with our own expansion process?
How do we do that?
What is required of us, to do that?
How do we invite expansion and open ourselves to new or greater possibilities?
How much do we choose to engage in experiences that will stretch us?
These are the questions that are currently active in me about expansion, and I don't have many answers yet.
This month, I'm participating in an art challenge called 30 X 30 Direct Watercolor. I've committed to create and post a new watercolor painting every day for 30 days, without using any pencil or ink lines.
I've participated in a number of art challenges, most of which involve a commitment to do a specific kind of art every day, and then to share it on social media with the other participants in the challenge. I always learn and grow from these challenges. My art, and I, always seem to expand from the experience, often in ways that I cannot anticipate.
This challenge is kicking my butt because it is a much bigger challenge, for me, than its predecessors. It is also giving me seemingly endless opportunities to expand my focus and my skill as an artist, and it seems to be doing the same for the other participating artists. I am having a lot of fun with it, along with some frustrating growing pains.
It has made me think about the nature of expansion, and about our role in it.
Sometimes expansion just happens to us, as a result of our life circumstances, and we react to it.
Sometimes we make something happen, by our sheer will and determination, and we expand.
And then there are those times in life when expansion feels like pure magic: Life unfolds naturally and we respond with joy, and it all feels like a seamless and fluid dance. To me, that's the best kind of expansion.