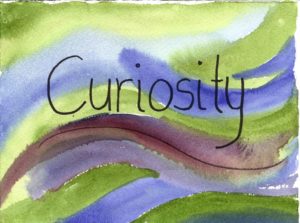 My January Word for the Month, Curiosity, has taught me:
To embrace what is and to be curious about it, rather than fighting it.
That life is way more fun and interesting when I am actively curious, and when I see life as an adventure.
To use "What if?" even more often.
That getting curious about something immediately causes me to be more playful and light, around circumstances and beliefs. For me, this is a good thing.
To embrace curiosity, for me, is to embrace living with an expectant spirit, eager to discover.
It is an invitation to see even the most challenging circumstances in life as an adventure, and an opportunity, to express my creativity and love, from the deepest levels of my being. I won't always "be there", but to live with curiosity is something I want to aspire to.
I definitely want to be more curious, more of the time.
Curiosity is a wise and playful companion to have in my life.