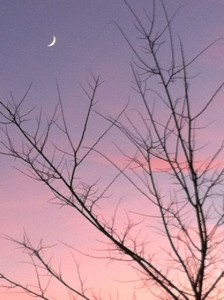 I looked up and saw a crescent moon in a sunset sky of blues, purples and pinks.
I was in a busy parking lot, walking from the grocery store to my car. It was evening commute time, and the road was filled with continuous, impatient traffic.
The beauty of the moon took my breath away, so I stood still for a few minutes and turned my attention away from all the traffic. I took a moment to gaze at the moon.
I breathed in the peace of the moment's interlude.
I tuned into the peace that was being offered to me, right in that moment.
I think these invitations to feel peaceful and centered, even in the midst of frantic activity, are all around us.
I believe we are offered these moments by life, all throughout our days.
It is just that I don't step into very many of them, because my mind is elsewhere, and I move right past them.
The peace was an elixir for my soul.
The moon set a few minutes later, and the sky filled with stars as I drove home from the grocery store. I was marveling at how this peace is offered to us all the time. I thought about how much peace is available to me, right in every moment, when I just tune into it.
What moments of peace are available to you, during your days? I invite you to go on a treasure hunt for them.