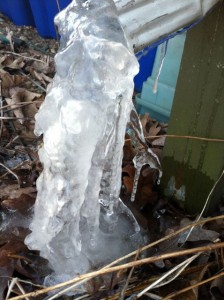 This year has been about exploring whether a Best Year Ever can be about the small moments, the ordinary and the everyday, rather than the "big moments" of our lives.
Here is a frozen waterfall, created by the slow and continuous drips of water as they travel down, through the drainpipe, from the snow gradually melting on the roof of our house. It takes a long time for one of these to form, and it takes the exact right circumstances for it to form. Just the right temperatures over just the right amount of time. Nature as sculptor, creating something in the most lowly of places, right by the recycling bins.
This is a perfect example of one of those ordinary things that is really extraordinary, if we notice and attend to it. A beautiful ice sculpture, available for my delight, by just stopping and noticing it.