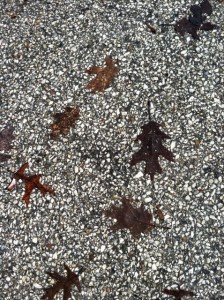 We are finally coming out of hibernation and walking the dogs at the park again, and all of us are SO ready to come out of our cave.
We are finding many delights to behold in our "new world."
We discovered these leaves floating in a stream of water, created by recent rainfall, and I couldn't help but notice how beautiful they still are, after being pounded, beaten, shaken, and blown all winter, by raging winds, blizzards, and unprecedented cold.
How far they are now from the lush greens of summer, but they are still offering the beauty of a tapestry of color and form on an asphalt parking lot.