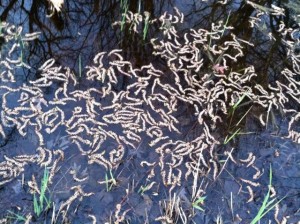 Before you all write to me in protest of the worms, they aren't worms. 🙂
Although they certainly might be mistaken for worms.
The trickster in me loved this view of the pond surface, just after the neighboring trees dropped all of their blossoms, and scattered their pollen. Because it looked like worms, but also because of the fascinating shapes and color.
This was a very ephemeral moment. By afternoon, the blossoms had disbursed, and this picture was gone. To me, this is what the Best Year Ever is about. Paying attention to the moments that catch my eye, and savoring them.
What are the moments that you are paying attention to?