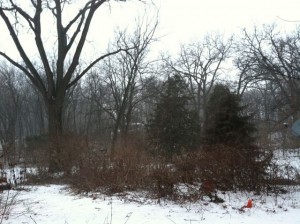 Today, the weather forecast is less than ideal.
Some tidbits from the National Weather Service Winter Storm Warning:
Sleet with possibly some brief snow, changing to freezing rain
Significant ice accumulation on walkways, roads, power lines, and trees
Sustained gale force winds with gusts as high as 65 mph
All of this "potentially resulting" in "significant power outages", falling trees and tree limbs, and "making travel very hazardous or impossible."
And, if you must drive (they always say something to this effect, like we would be complete fools to even consider such a thing), people with high profile vehicles are going to get pushed around. A lot. Not to mention sliding around on the ice.
In other words, it is a day when our ancestors would have never even considered leaving their caves.
I am bemused at my response to the warning.
Initially, I'm reluctant to admit that I won't be able to have the day that I had planned.
My tendency to try to get things done anyway is so strong that at first I waste a lot of energy visualizing how I will get the things done that I had originally planned to do anyway, now accounting for the weather conditions.  As if anything that I had planned to do was absolutely essential to life.
When that proves to be obvious folly, even then, I don't just give into it. I begin a round of triage in my mind: "Well, I can't get X done, but what can I still do (without endangering life and limb)?" And without being able to set foot outside, or without electricity.
This is a ridiculous reaction.
In my defense, I think this is, at least in part, a tribal reaction. We Midwesterners are a tough lot. We don't let a little weather get in our way.
And, in our Western culture in general, we are taught to "find a way" to get stuff done, no matter what.
But, really?
Something bigger than a busted plan is going on here. Whatever happened to going with the flow of life? Or, sitting with the question "What is it time for?",  before I start my day?
This is a wake up call, and it is some good feedback for me, about the paradigm of living that I still occasionally allow myself to get sucked into.
I can choose a different way. I am obviously not in charge of conditions, but I am in charge of my response to the conditions, and of how I choose to come to my life.
For a while now, I have had a practice of centering myself and meditating before I begin my day. In this clear, spacious state of presence, I allow my inner wisdom to inspire me as to the priorities and activities of the day.
My deeper wisdom takes into account the bigger picture. It sees with clarity. It is in touch with my well-being and the well-being of others. It knows the true priorities.
This morning, I forgot. This is always astonishing to me, that I can forget something that I have practiced for weeks and months, and that I know is utterly important to me. But, I did. I forgot.
I forgot that I don't plan my days anymore. I forgot that I am committed to discerning my day's activities, and in receiving the day's priorities. And I reverted back to this very old behavior that just doesn't serve me.
So, right now, I am going to choose. I'm going to be really grateful for this wake-up call. I'm going to sit in peace and discern the way forward. And, I am going to be compassionate with myself for forgetting; that's important, too.
Where have you, in your life, unconsciously drifted away from the way that you want to be?