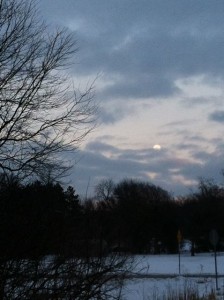 Harper and I are again walking at dusk. It is a mild Winter night, around 20 degrees F, snowing lightly and softly. I am so grateful for walking again, after a spell of brutally cold weather which was not fit for woman nor beast.
We get to a forested area, and when I look up, an almost-full moon is peeking out from some clouds. It is visible just over the top of the trees.
I can see that it is almost full, and I long to get another glimpse of it, but the clouds come in and cover it up.
Harper and I continue. It is such a nice night, that we walk longer and farther than I had expected we would. The walk is giving my mind an opportunity to clear, and to rest. All I need do for right now is to steer us safely through the snow.
The moon peeks out from the clouds just briefly as we walk through the yard of the long-ago closed-school.  The yard is blessedly desolate during this time of the year.
We walk down a street with a few houses, and they are quiet, too.
The more I walk, the more I want to walk, but it is getting dark, and I've forgotten the flashlight, so we turn towards home.
As we do, I turn to look behind us, to the East, and there is the moon, full, in all its glory. The thick clouds have left the sky. It is absolutely still, and I stop to take in the beauty of the scene. My soul craves this stillness.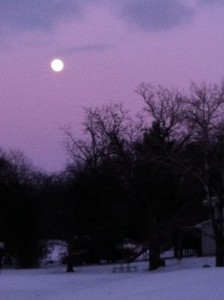 The full moon reminds me of the beauty in the cycles in nature. There is fullness and emptiness, or darkness. There is waxing and waning. Nature is always going through cycles.
We all also go through these cycles, even if they may not be as clearly noticeable as the phases of the moon. Our own creativity waxes and wanes. Our spirits go through periods of feeling full, and feeling empty or dark.
The moon helps me remember that no matter where I am in the cycle, change and transformation is afoot. Heraclitus said "The only constant is change."
What is changing in your life?