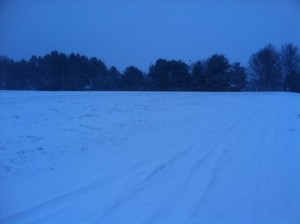 I'm walking Harper. It is a mild day for mid-winter, 32 degrees F. There's a slight breeze coming off the snow fields, so it feels a bit cooler.
We're walking along a path that was made by a snowmobile a few days ago.
There are a lot of things that I don't love about snowmobiles. One of them is that they are really noisy. Their sound cuts through an otherwise tranquil, deep winter night.
However, given that I am such an equipment hound, it would be incongruent of me to despise snowmobiles altogether.
Snowmobiles make paths through the farm fields. They compact the snow so much that it makes it very easy to walk on the path that they cut.
This opens up a whole new territory for me in the winter. I have to love that.
The irony of me wanting to walk on someone else's path is not lost on me.
All of my life, I have eschewed others' paths through life, in favor of cutting my own.
I have a bit of a rebel nature, and I like the independence and creativity of finding my own way.
Then I made an obvious discovery. You really can't follow someone else's path. You only have your path.
Or maybe even more accurately, "Travelers, there is no path, paths are made by walking." – Antonio Machado
How do you find your path?