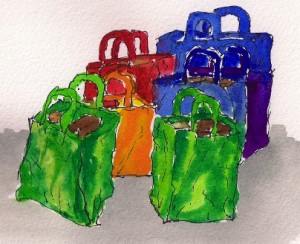 As we walked the neighborhood this morning, almost every mailbox had a reusable grocery bag, filled with food, hanging from the mailbox.
The Boy Scouts have a community service project here on the first Saturday in March. They collect dry goods for our local food pantry.
At Rich's house, there were six bags, filled with food, sitting in the middle of the driveway.
I wasn't surprised to see those six bags sitting there, but I was inspired.
Rich is a generous and grateful guy. He takes every opportunity, it seems, to give back. He inspires me with his good and generous nature. It seems like he is always going the extra mile, and he is very quiet about it. He just does it.
At Christmas time, at Rich's house, there is a wrapped gift, sitting on the top of his garbage bin on garbage collection day, for the guy who picks up our garbage.
On New Year's Day, he and his daughter go door-to-door, taking goodies to all the neighbors.
It makes me smile to see the six bags in the driveway and the Christmas gift on the garbage can.
And these are just the things that I have seen him do. I don't even live in his little neighborhood, so I'm sure there is a lot that I have missed seeing.
Thank you, Rich, for making our world a better place.
How does generosity touch your life?