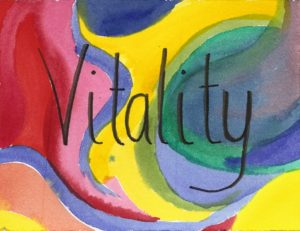 Today is the last day of February, and tomorrow, I am on to another of my 12 Words, Eagerness.
Vitality, to me, is the flow of creative spirit from within. It is the part of me that is always becoming, ever emerging and seeking expression. It urges me, and when I allow it, it radiates in and through me.
Its face and rhythm change.
Sometimes it is quieter and meandering, like a waning autumn stream, in the mountains.
Sometimes it is a torrent, like a current that is robustly fed by spring rains.
My "job" is to join the river and the flow, and for me, this is primarily done by frequent pauses during the day, breathing deeply into the flow of Vitality.
When I do that, I feel the rhythm of the flow in my body. I know that on some level, I am this flow. I empty myself to receive the insights and intuitions of the flow, and when it feels the right time, I move as the flow into action.
For me, Vitality is a flow of ephemeral moments, to be seized and and savored:
To reach out to someone or something in love and gratitude, in a passing moment.
To realize an easier way of moving through something, just as a river finds its way through the boulders.
To have that knowing that I am on my right path, and that all is well.
To embody a more visionary perspective in the challenges.
To act, with a knowing that it is the right thing to do.
Vitality asks much of me, as it flows with inspiration and radiating energy.
I must choose to join the river. It is a surrender to the flow of the deep wisdom of creative spirit emerging. But I am still, at times, reluctant to give myself fully to it.
I must respect the timing of the flow. Sometimes it is moving slower than I think I would like, or faster than I think I can keep up with.
Vitality always demands that I be present in the moment. I need to breathe and to sink into presence countless times during a day.
I need to be a clear space to receive and sense the flow of Vitality, and to radiate it back to others. Sometimes there are the boulders of my cluttered mind, and I need to open up spaces for the flow to make its way through, in its full flow.
Sometimes I need to clear away an ancient beaver's den of old outdated beliefs and assumptions, so that Vitality can flow clearly and fully.
But as much as Vitality demands of me to be committed to allowing its flow, and as much as it needs clear space within me, I'm in.
In welcoming Vitality as my constant companion for this month, I have felt the joy of inspiration and the power of radiating energy flowing. I have had moments of knowing that this is how I want to be in my life, living as one with the Emergence of creative spirit from deep within.
Vitality is a commitment I am willing to make.