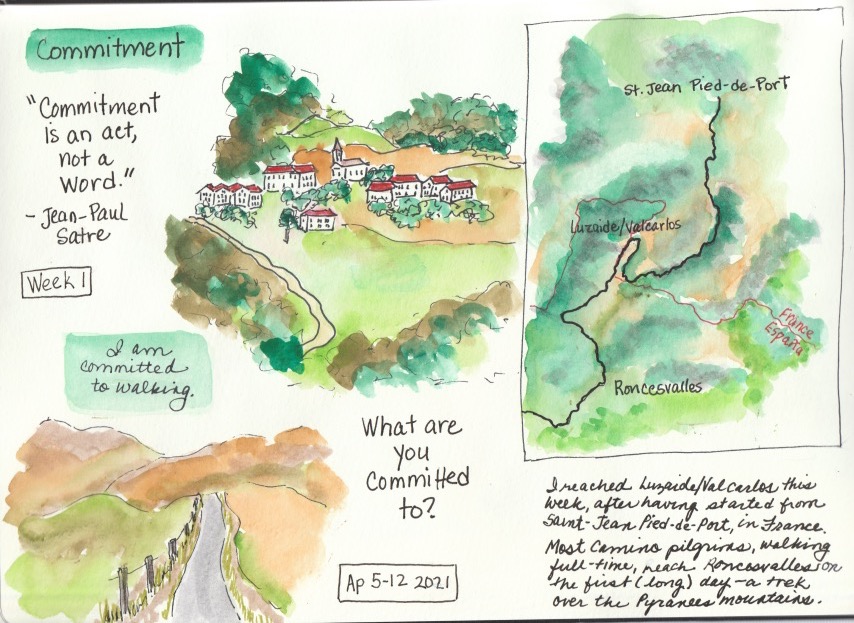 This is the first actually-walking week on my virtual Camino de Santiago pilgrimage. And this is a photo of the visual journal that I'm keeping on my pilgrimage, with ink and watercolor.
I am actually walking every day, really steps on real trails, at the local parks, not just in my imagination.
But I'm not burning up the tarmac like a live on-site pilgrim would. A pilgrim on the Camino would average roughly 12 to 13 miles per day (20 kilometers). I average between 2.5 and 3 miles a day, a little under 20 miles per week (32 kilometers).
I plan to show my weekly progress on a small map that I sketch in my visual journal, so I have a record of where I've been.
And I'm journaling a bit every day, noting what's coming up for me about my walk and my life (remember my curiosity about what if I think about my life as a pilgrimage?)
What's on my mind this week is Commitment. I'm committed to walking and journaling and sketching. But what else am I committed to?
In a prior blog post, I shared what I long for; those longings inspired this virtual pilgrimage.
That I live with gratitude, especially for the ordinary and the everyday
That I be the best person I can be
That I feel like I am living on a solid footing of grace and equanimity
These aspirations are more about a state of being in the world, or the spirit with which I live my life, rather than a prescription for actions.
For me, they don't lend themselves to an action plan, as in: I take these steps and I will get there.
They may lend themselves to particular intentions and spiritual practices, but even those aren't clear to me yet.
What is clear to me is that I commit to embracing the spirit of being a pilgrim: that I show up to each day with an openness to life and a willingness to move forward:
That I live with a "Yes!" in my heart
That I pay attention to my experience and to what life is inviting me to
I'm committed to these things, and, from here, we will see what else shows up.
What are you committed to?