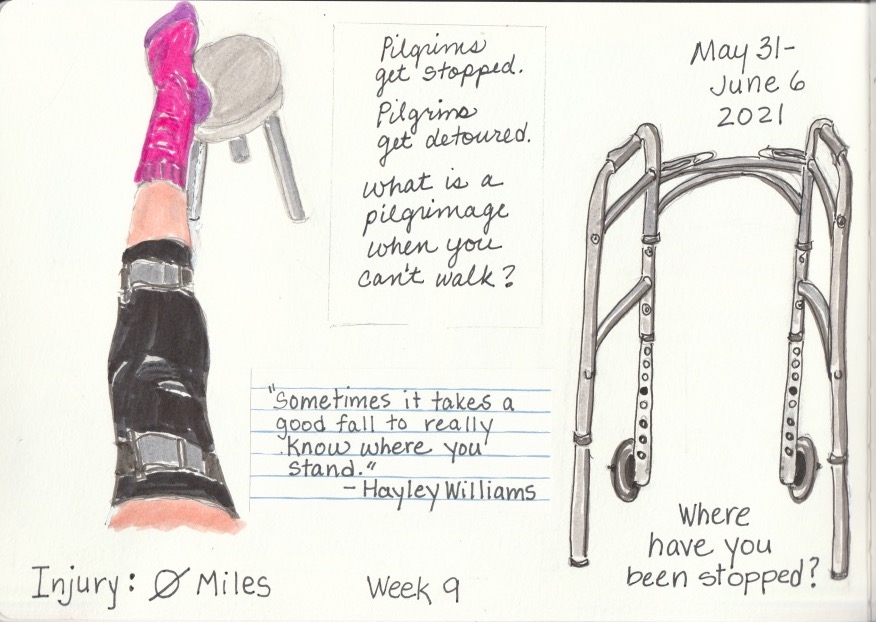 What is a pilgrimage when you can't walk?
This is the question I am now faced with, but this week I've been occupied with more banal issues.
I fell and broke my knee. I will be off the trail with no walking for at least 6 weeks. I have a brace and a walker. The walker is to allow me to move for only absolute necessities. I am to stay off my broken knee as much as is humanly possible.
So this week has been about pain, inconvenience, adaptation, release, and acceptance.
Pain
As any of you who have had broken bones know, at first there's a lot of swelling and pain, and that makes it hard to sleep. Having chosen to pass on narcotics, my sole option for pain control is Tylenol and for the first few days, it wasn't completely effective. The pain wasn't excruciating, but it was difficult to ignore. Pain takes a lot of energy.
Inconvenience
It's astonishing how much we take for granted when we are mobile, until we aren't mobile. It took a while to establish new strategies for getting around, even for the minimal amount of getting around that I am allowed to do.
Adaptation
Pretty soon, I adapted to being on a walker. We humans are flexible beings and we are good at adapting. I do think that adapting is different than accepting. I am adapting to the new circumstances and limitations, which leads to…..
Release
There are a lot of things that I just need to let go for now. Top on my list was walking, which, as I have described before, is (I thought) essential to my physical, mental, emotional, and spiritual well-being. The days unfolded and revealed themselves to be a constant stream of little releases, as my world of normal activities kept shrinking.
That book that you wanted to read that's sitting by your bedside, way back in the bedroom? Let it go.
Want that pair of glasses across the room? Forget it.
Carry your dinner from the kitchen to the dining room table? Not happening.
Pop out the back door and put the recyclables in the bin? Think again.
Having to use a walker is certainly not the end of the world; for millions of people, it is a way of life. But it is an adjustment and a practice in letting go, and in discerning what's essential.
Acceptance
I am massively fortunate that this wasn't a lot worse, and that it is a temporary condition.
Pilgrims get stopped. They get detoured.
In the end, I can only feel huge gratitude as I begin to accept where I am and make a promise to receive whatever the gifts from this experience turn out to be. My gratitude extends also, of course, to my husband and all of my friends for their support.
It will be interesting to see what shows up on the journey of this pilgrimage, especially the inner journey, as the next few weeks unfold.
Where have you been stopped?