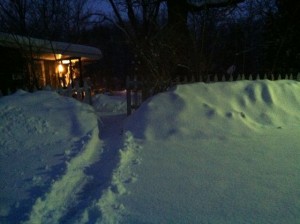 I notice that in my rush to get somewhere else, I often miss the moment. I've shared that recognition before.
What I've also noticed is that I then miss the feeling of the moment, too.
Here is a simple moment where I caught myself and stopped to feel the welcoming, belonging, warm feeling of home, on a cold snowy night, when I really "took in" the light and the path.
How many nurturing, enveloping moments are waiting for me, just to take them in?