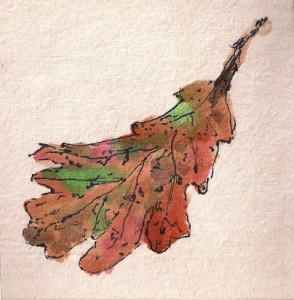 I bring a fall leaf with me, from home. At the trail head, I let it go, allowing it to symbolize my release into this journey. I leave what I don't need behind, and I travel with only the essentials. It feels at this moment like I am traveling with far less than I need, but I think that is the nature of a pilgrimage. A pilgrimage asks us to shed our beliefs about what we think we need.
When I used to backpack in the Sierra Nevada mountains, I was very limited in what I could take for 10 days or two weeks. Granted, it was a short period of time, but I was always amazed at the freedom that came from carrying everything I needed on my back. And, in the days before cell phones! In committing to the journey, I was trusting life to provide.
Now, on my pilgrimage, I am letting go, And, I know not what. I let go of whatever I don't need anymore in my life, and whatever I do not need for this journey. I don't know what all of these things are, but what seems important at this moment is my willingness to let them go and my readiness to travel without them.
I am reminded of the four words that came to me in my reflection time when I was first called to this pilgrimage: Intention, Commitment, Willingness and Readiness. They keep coming back. Now I am beginning to learn about them. This journey will teach me.